She's done it again. After teaming up with Philadelphia producer Keath Lowry (2 Billboard Hot 100 singles) for the 2015 single "Futureproof" and following her 2017 New Year's Eve performance at the Sydney Opera House, Australian singer/songwriter Anikiko releases her second sizzling collaboration with Keath now available on all download and streaming sites.
After 2 marathon writing and recording sessions spanning 48-hours at Keath's studio in Philadelphia the two created "LiveWire", a dynamic Electro Pop record that speaks to an "electrifying" passion that can't be suppressed. Anikiko showcases her versatility, alternating between ethereal vocals and flying sparks of raw emotion over gritty, bass-driven production reminiscent of Bebe Rexha and Melanie Martinez. The composition started as an instrumental brainchild of Keath's collective LektroMelodica, Anikiko heard it and loved it, setting in motion the melody and lyrics written by her and Keath.
Anikiko is a force to be reckoned with. As an international performer, she recently returned to her hometown to performer at the Sydney Opera House for New Years Eve. Anikiko is a genre bending queen who makes no apologies for her passion for eliciting emotion which is both strong and gentle at once. Her presence, attitude, and commitment to performance excellence brings that "otherness" to events and shows which people keep coming back for.
Born in The Bay and raised in Philly, Keath Lowry an eclectic songwriter and producer that fuses the resonating lyrical tradition of classic R&B, Pop and hip hop with futuristic production that is just as much soul and melody as it is tech noir.
Contact:
Groove Control Productions (USA) | promo@gcdigi.com
Released by:
Groove Control Recordings/AWAL
---
Who says the party has to stop? Philly music collective LektroMelodica continue the summer festivities with the release of their latest 100 bpm club banger "Mix It Up" produced by Keath Lowry (Top 20 Billboard Dance Hit and 2 Billboard Hot 100 singles), available in all digital stores and streaming sites on July 22nd. After an impressive track record of music placed in film and TV (including the hit Lifetime series "Bring It!", Vh1's "Single Ladies", and award winning Danish film "Frit Fald"), "Mix It Up" combines LektroMelodica's unique electronic sound and lead vocals by Joy Christian with the emcee skills of DC Hip Hop veteran Khidar and hot fire and wit by Rob DiIoia.
While collaborating with Khidar (a fellow Groove Control Recordings label mate) was "all in the family", the collective linked up with DiIoia through a writing session at Grammy nominated producer/engineer David Ivory's studio. A few months later the "Mix It Up" brainchild was born to bring a dose of soul, sophistication, and depth to the clubs: "Whole world trippin', need love in my cup."
Spread the love: Facebook | Twitter | instagram
Contact: promo@gcdigi.com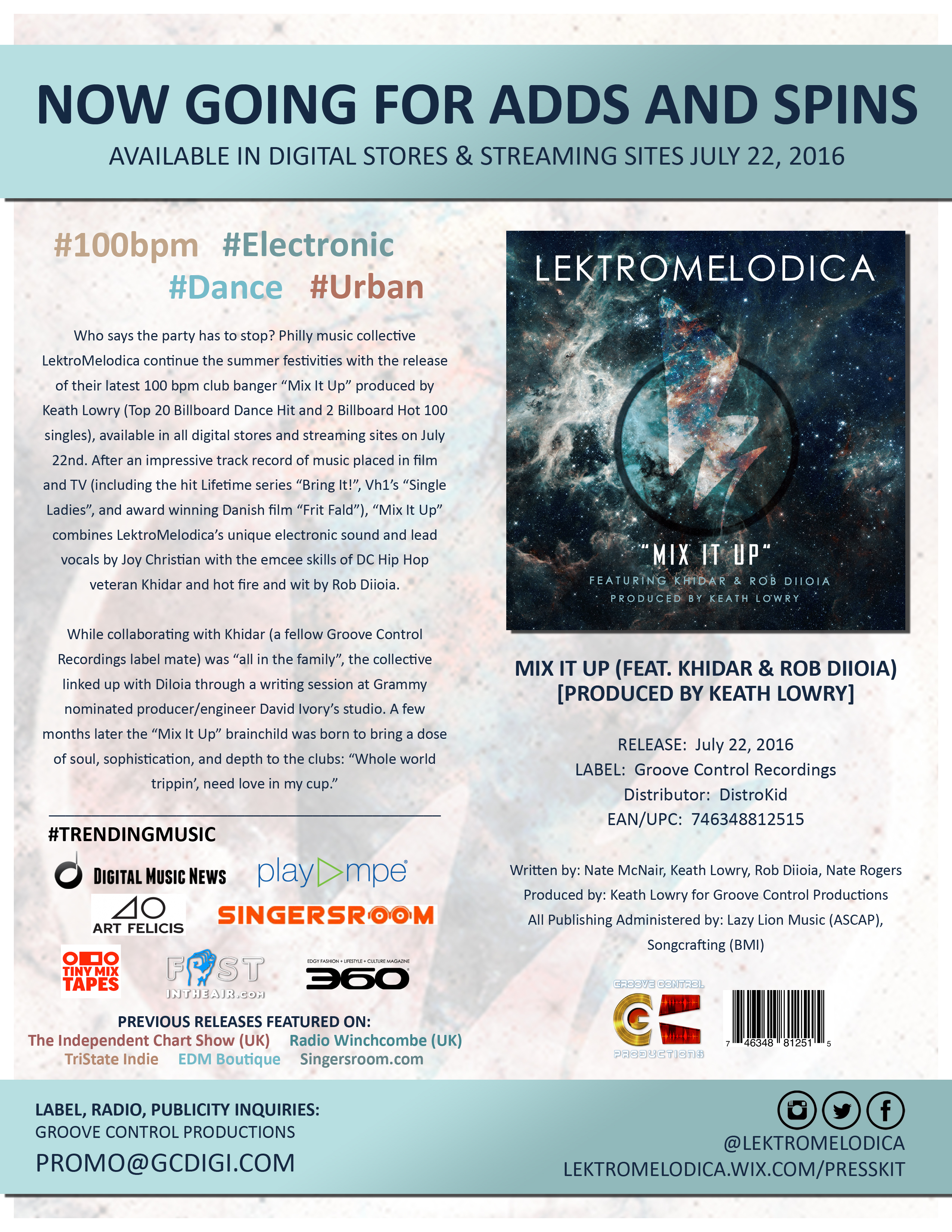 ---